S. Victor Whitmill, a tattoo artist, sued Warner Brothers for copyright infringement in connection with the movie The Hangover. Whitmill claimed that the facial tattoo that Ed Helms wore in The Hangover II violated his copyright in the tattoo because it was a replica of the one that Whitmill created for boxing champion Mike Tyson.
S. Victor Whitmill, the tattoo artist who gave Tyson his renowned tribal tattoo, really filed a lawsuit against the entertainment industry back in 2011.
Nearly a month after the Hangover II reached theatres, in June of that year, the lawsuit was resolved.
Whitmill claimed Warner Bros. never contacted him to obtain his consent to use the artwork and that the tattoo Ed Helms' character received in the movie violated the copyrighted tattoo he had needled into Tyson's face.
The matter was resolved after an "all-day" mediation, but the contents of the agreement weren't made public.
The victory, which The Hollywood Reporter exclusively detailed more than ten years ago, spared Warner Bros. the need to digitally remove Stu's tattoo.
Whitmill's attorney Geoff Gerber said at the time: "Warner Bros. and Mr. Whitmill have amicably resolved their dispute. No other information will be provided."
Whitmill's lawyer's official complaint filing read: "When Mr. Whitmill created the Original Tattoo, Mr. Tyson agreed that Mr. Whitmill would own the artwork and thus, the copyright in the Original Tattoo.
"Warner Bros. Entertainment, Inc. — without attempting to contact Mr. Whitmill, obtain his permission, or credit his creation — has copied Mr. Whitmill's Original Tattoo and placed it on the face of another actor … This unauthorized exploitation of the Original Tattoo constitutes copyright infringement."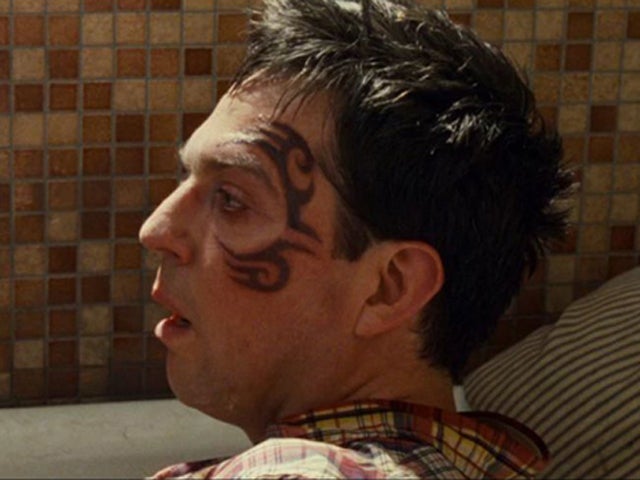 Aside from the unfortunate face tattoo, Helms' character Stu in the alcoholic trilogy had a notoriously difficult time of it, even pulling out his own front tooth with a pair of pliers in the first film.
Helms previously admitted that, although a rusty set of pliers wasn't the real culprit, he actually had a missing tooth when the movie was being made.
Back in 2009, Helms explained: "It is totally real. I have an implant. An adult tooth never came in and when I was 16, they did a permanent implant."
He added: "We started to do different tests with prosthetics and blacking it out and nothing worked.
"I wasn't eager to take out my implant because my mouth is healthy, but I talked to my dentist and he was like, 'Yeah we can do it!' My dentist was really into it."
Source: ladbible.com