At Heathrow Airport, the 40C (104F) record was provisionally broken, setting a new record for Britain.
When 39.1C was provisionally recorded on Tuesday morning at Charlwood in Surrey and 40.2C was later reported at Heathrow at 12:50 p.m., the previous record of 38.7C in 2019 was first broken, according to the Met Office.
The 40°C figure "may be as much as 10 times more likely in the current environment than under a natural climate unaffected by human impact," warn Met Office scientists, who claim that the prediction is a result of climate change.
The high heat could result in thousands more deaths than necessary, according to Professor Penelope Endersby, chief executive of the Met Office, therefore people should take heat warnings as seriously as those concerning other serious weather phenomena, like snow or wind.
She told BBC Radio 4's Today program: "Our warnings are always impact-based, so, when we put out warnings, if they're red, that means there's a danger to life and we're expecting major infrastructure impacts, and that's true, whether it's snow, wind, rain, and it's true of this heat warning.
"We're certainly seeing people reacting a little bit different to the heat warnings as though they think that maybe we shouldn't be telling them to worry about heat the way we tell them to worry about storm or wind."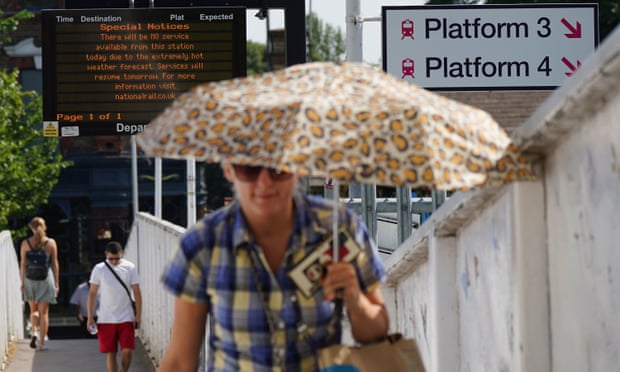 She further added: "These temperatures are unprecedented in the UK and we're not used to dealing with them. And heat undoubtedly causes many hundreds, thousands of excess deaths in heatwaves, so people do need to take care and follow the advice we've been putting out about keeping in the shade, keeping cool, keeping hydrated, and so on."
While train companies advised people not to travel today or tomorrow, certain schools in various counties, including Nottinghamshire and Hampshire, have indicated they will close.
Passengers are advised not to travel because Network Rail will close the East Coast Main Line on Tuesday from midday to 8:00 p.m. for all places between London King's Cross and York and Leeds.
Sam MacDougall, operations director for Network Rail said: "Closing the line to traffic is always a last resort but it is the right thing to do to keep people safe on Tuesday given the unprecedented heatwave forecast.
"The forecast temperatures are well above those which our infrastructure is designed for, and safety must come first."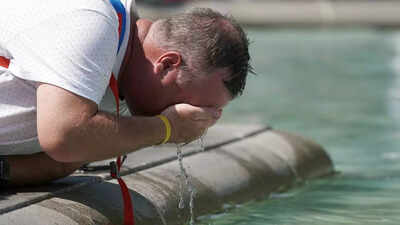 Hospitals are likely to be "very, really pressed" over the next few days, according to the chairman of the NHS Confederation, thus additional contingency support for ambulance services has been implemented, including more call handlers and extended working hours.
Britons are advised to avoid going outside between the hours of 11 a.m. and 4 p.m., use sunscreen, hats, and protective clothing, and drink enough water to stay hydrated.
Source: ladbible.com